How to Teach the TH Sound
Posted by Heidi | Filed under Improving Articulation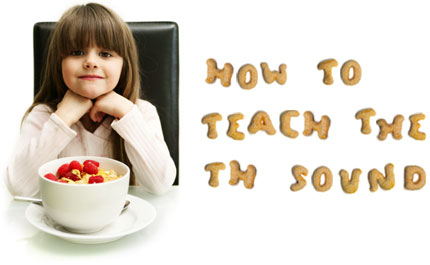 Learning the TH Sound All By Itself
I love teaching the TH sound because it is one of the most visual sounds to teach. Model putting your tongue between your teeth while blowing air at the same time. Most children will have no difficulty imitating this action. Then practice this action with and with out voice. Think of it as a loud th and a quiet th. The reason for this is the TH is pronounced with voice in some words like, "that, this and the" and without voice in other words like, "thank you, theater and thongs."
Practice the TH Sound in Syllables
Once you have had multiple successful productions of the TH sound all by itself try adding a long or short vowel to the TH sound. For example, "they, the, though, tha, thee, thy…" Then try putting the vowel in front of the the sound, for example, "ath, eth, eeth, ith, uth, oath…" Finally try putting the Th sound in the middle of vowels, for example, "atho, ethee, ootha, othu…" Which ever syllable combination your child is the most successful with will tell you whether you want to begin practice with words that begin with TH, end with Th or have Th occurring in the middle.
Practice the TH Sound in Words
If your child did did the best with TH following the vowel you would begin practicing words that end in TH like, "booth, bath, path, north, moth, mouth…" I prefer to practice with a list of at least 20 words. I like to use pictures to make it more fun. Fun ways to use the pictures include making a snake with the pictures with little treats every 3-4 cards, have the child say the name of the picture, if it is correct put it away, if he/she misses the word put it in a pile to practice later. When you have gone through all the words have your child say the ones they missed 5 times correctly before putting them away. You can also play games like memory, go fish, and bingo to keep it fun. You can download the pictures I have created for words beginning with TH as well as words that have TH in the middle and at the end of the word on the worksheets page. Once your child is able to say these words with 80% accuracy or better, try putting them into a sentence.
Practice the TH Sound in Sentences
I use one sentence and have the child insert all their practice words into that sentence. For example the sentence might be, "They both have a ________." In the blank you would fill in "They both have a bath, They both have a mouth, They both have a north." Some sentences will make sense and others will not. You can use this as an opportunity to discuss how to make the sentence correct. If you are practicing the TH in the beginning of words you might use the sentence "That is the _______." If you are practicing the TH in the middle of words you could use the sentence, "My brother wants a ________." Feel free to make up your own sentences as well.
Praqctice the TH Sound in Stories
Following successful sentence productions have your child practice the TH sound while retelling simple stories or while reading aloud depending on the ability level of the child. Be sure to follow this outline until you have achieved mastery of the Th sound in all positions of words (beginning, middle and end of words).
Practice the TH Sound in Conversation
Once your child is able to retell stories with good TH production you will find moving the TH into conversation will go pretty smoothly. You may still have to remind your child from time to time but more often you will be pleased to watch them catch themselves and make the correction on their. Before you know it, you'll forget they ever had a problem with TH. Good luck!




Heidi Hanks, M.S.CCC-SLP has been a practicing Speech-Language Pathologist since 2000. She graduated from Utah State University where she completed both her Bachelor's and Master's degrees. She began her career in early intervention and eventually started her own private practice where she has worked primarily with pre-K through school age kids. She is the founder of Little Bee Speech, and is currently developing apps for speech and language. Heidi lives in Utah with her husband and 4 children.


42 Responses to "How to Teach the TH Sound"