Hooray! After a year and a half of writing, designing and developing, Articulation Station for the iPad is finally here and available to download on the App Store! I'm so excited to finally be able to share it with everyone. It's been my dream to bring my articulation program to life on the iPad and to make it fun and engaging to use. It's beautiful to look at and easy to navigate, but most importantly it's a fantastic tool for teaching articulation!
Articulation Station has 6 awesome activities at the word, sentence and story levels allowing you to follow the same "Process of Articulation Therapy" I have outlined here on Mommy Speech Therapy. If you have downloaded my worksheets and have used them in your home or therapy setting, Articulation Station will be a fantastic transition to an even more engaging experience for both you and your child.
Let me outline the features of this app to help you get to know it better.


FLASHCARDS
These flashcards are not your typical flashcards. They are high quality, easy to interpret, real life images that are attention grabbers! You and your child will love swiping through them and therapists will love the consistent number of flashcards throughout the entire application. Each word was carefully selected with children in mind. Audio reinforcement is also included, allowing children to tap the card if they can't remember the word. A side benefit to the audio reinforcement is auditory bombardment. Meaning when you first introduce a sound to a child, hearing the sound over and over again will help them identify how the sound should be said. They can do this by going through the flashcards multiple times and simply tapping the card to hear the audio.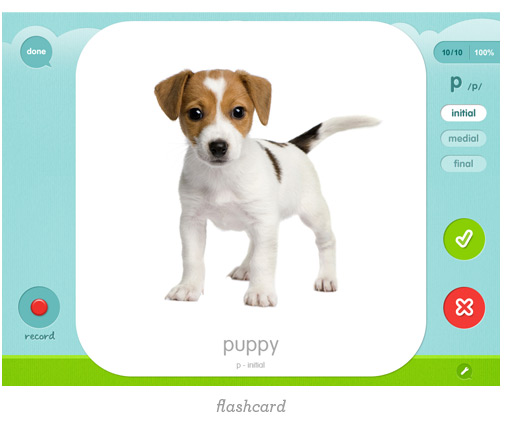 MATCHING
The matching game is another fun way to practice sounds at the word level. Similar to the flashcards, you can score each word card that you turn over as many times as you like before you turn over another card. You can also tap the card to hear the name of the word that is pictured.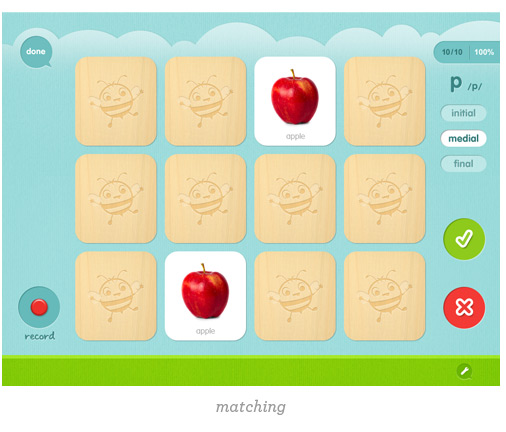 ROTATING SENTENCES
The rotating sentences are super fun repetitive sentences where only the target word changes, similar to the sentences in my worksheets here on Mommy Speech Therapy. For example the rotating sentence for the p sound in the initial position is, "Put the (target word) in the pink purse." Each sentence has picture prompts and audio reinforcement to help even our littlest ones learn to say the sentence independently.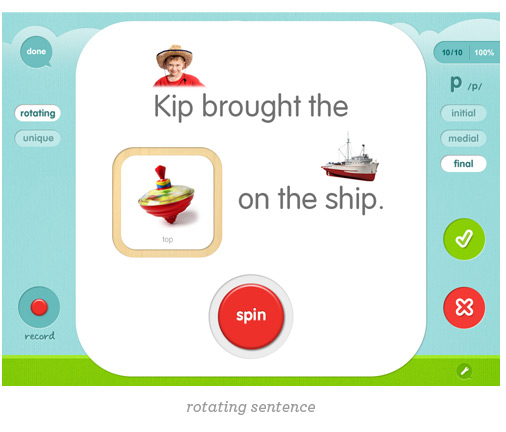 UNIQUE SENTENCES
The unique sentences are new sentences for every target word in the entire application. Thats over 1,300 unique sentences! Each unique sentence has on average 3 words with the target sound in it. For example in the sentence, "Penny rode the pony in the park." "Pony" is the target word but the initial p sound can also be practiced on "Penny" and "park."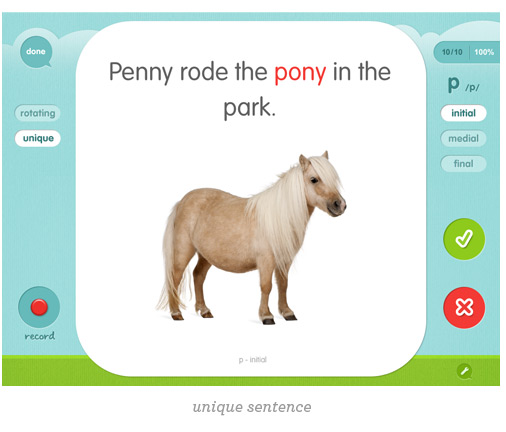 LEVEL 1 STORIES
The Level 1 Story was created for the nonreader but I have found that all my kids enjoy them. The short, rhyming and sometimes repetitive stories are paired with picture prompts and audio reinforcement to make retelling the story easier. Little ones feel so big as they tell the story back to you. My three year old gets so excited about these stories because he can retell them all by himself, it's so cute! In addition, each story has multiple target words which maximizes practice opportunities of the target sound in a story environment. At the end of each story there are comprehension questions to provide an opportunity to practice the target sound in more spontaneous speech.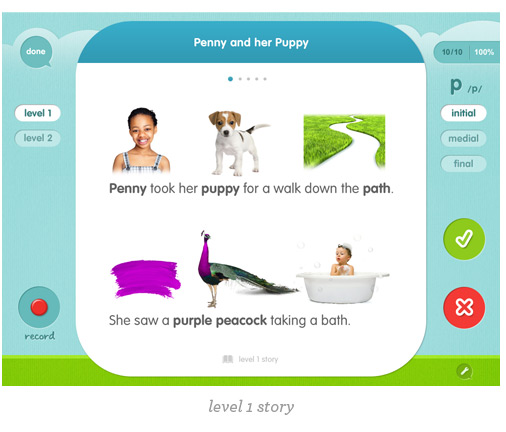 LEVEL 2 STORIES
The Level 2 Stories are more advanced. They are longer stories with larger vocabulary and provide even more opportunities to practice the target sound in a story environment. There are comprehension questions at the end of these stories as well. The questions test their comprehension and retention as well as provide yet another opportunity to practice the target sound.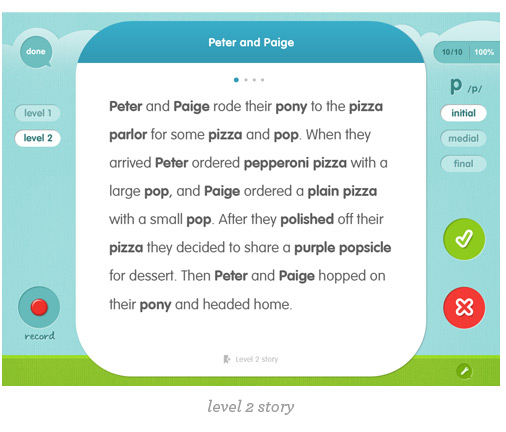 Here is an overview video so you can have a more detailed explanation of how Articulation Station works. If you can't see the video below you may need to refresh the webpage.



Other fantastic features in Articulation Station include:
QUICK TIPS
Before you begin practicing a sound in words, sentences or stories it is important that the child or adult can say the sound clearly in isolation (all by itself). That is why I have included "Quick Tips" in each of the sound programs to make teaching the sound in isolation a little easier. The Quick Tips are similar to the suggestions I have shared here on Mommy Speech Therapy on how to teach sounds.
AUDIO RECORDING & PLAYBACK
In each of the 6 activities in Articulation Station you can record a child's response and then play it back. This is great for teaching self monitoring and the kids love to hear themselves when the audio is played back!
SHUFFLING MULTIPLE SOUNDS
Shuffling multiple sounds allows you to work on more than one sound and/or sound position at a time in the flashcard activity. This is a great way to test for retention of a sound you have passed off or to target phonological processes.
DATA COLLECTION
There is also an in-depth data collection feature that makes tracking progress so easy! From the data collection screen you can sort scores based on date, sound and position, passed or notes taken. You can also access specific session details and repeat words, sentences or stories not passed in that session. You can email or print scores to share with parents or your speech pathologist. You can see more details of data collection in the video below.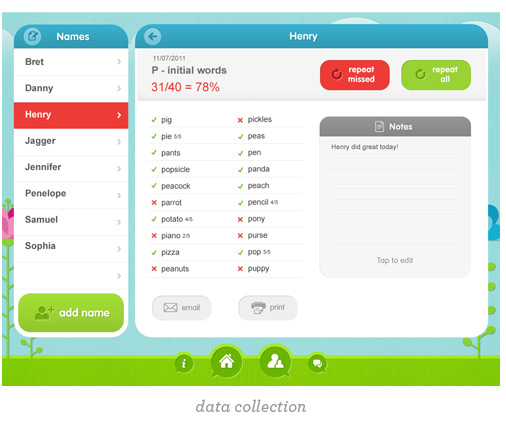 GROUP SESSIONS
Our group session feature allows you to work with up to 6 students at one time still allowing each student to practice their own goals at their own pace! Now that's awesome! If you need to work with more than one child at a time, you will LOVE this. Here's another video treat with more info.



The best part is you can download Articulation Station for free which comes with one sound program (the P sound program).
Once you've downloaded the app you can visit the Articulation Station store within the app and purchase the additional sound(s) your child needs help with. You also have the option to purchase all of the sound programs at once. The individual sound prices range from $1.99 to $9.99 depending on the sound. When all the sound programs are downloaded together it's $89.99 which is almost a 15% savings from downloading them individually.
I've been using this app for about a month now, and the reaction from my clients has been so much more exciting than I had anticipated. I've been able to get more repetitions out of them because they were having so much fun practicing their sounds. They wanted to do the activities again and again. My articulation therapy life has become so much easier because I don't need to pull out the flashcards and then put them away again, (or lose them). My desk has also become cleaner, no more sticky notes everywhere with tally marks… my notes are now on the iPad.
Articulation Station has made all the difference for me in therapy and at home with my three year old. We've been working on our TH sound and he's getting it! My little clients are loving this app as well as their parents.

If you don't have an iPad yet, it looks like your excuse to get one is finally here! Download Articulation Station from the App Store today and try the P sound for free!