I have found that the most difficult thing for a lot of parents to do when trying to correct their children's speech errors on their own is to teach that initial correct production of a sound. That is why I was so excited to discover Speech Buddies. While I just recently obtained my own set of Speech Buddies and have not had an opportunity to use them as much as I would like, I am impressed with their concept and design. Speech Buddies are innovative tools that claim they can help parents teach the correct production of a sound through tactile means when auditory and visual training methods haven't worked. I am excited to see how these will incorporate into therapy and hope they can speed up the process of eliciting difficult sounds. For those of you that have had difficulty teaching the r, l, ch, s, and sh sounds these may be just the tools for you. If you've already tried speech buddies I would love to hear your feedback.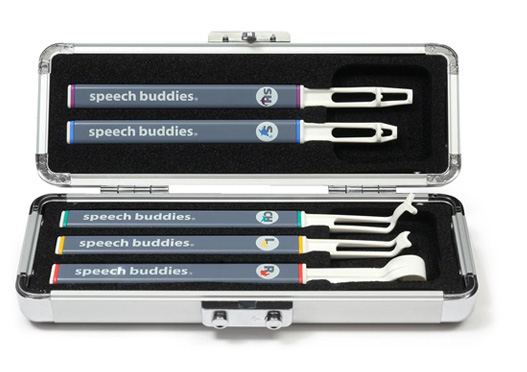 Speech therapists use three different methods to teach children the correct production of problem sounds. The three different methods include:
auditory training
visual training
tactile training
Auditory training involves having the child listen to multiple correct productions of the target sound. Visual training involves visually showing the child how to position his/her tongue, lips, teeth and jaw. Tactile training focuses on teaching children to feel the correct tongue placement and movement necessary to produce the correct sound.
Speech Buddies are a new set of tools that have embraced the tactile learning method. These tools make it easy for parents to teach the correct placement of the tongue which should lead to the correct production of the target sound.
How tactile learning works:
Tactile learning works by providing a target inside the mouth so the tip of the tongue can feel the precise location required to pronounce a sound correctly. Through repetition, feeling this correct tongue placement promotes re-learning of the correct motions of speech and ultimately mastery of these complex muscle movements.
Speech Buddies embrace tactile learning by offering a sound-specific tool depending on the child's needs. There are Speech Buddies offered to help with R, S, CH, L, and SH sounds.


This entry we will focus on correcting the "S" sound, though many of these tactics are appropriate for all problem sounds. The S-Buddy or Seal Buddy, corrects for a number of different S errors (frontal and lateral) by helping kids place the tongue precisely behind the teeth, exactly where it needs to be to say a perfect "S". The Seal Speech Buddy has been specially designed so that nearly every word can be pronounced perfectly with the Speech Buddy in the mouth.
There are three basic steps to get started using your S-Speech Buddy for tactile learning: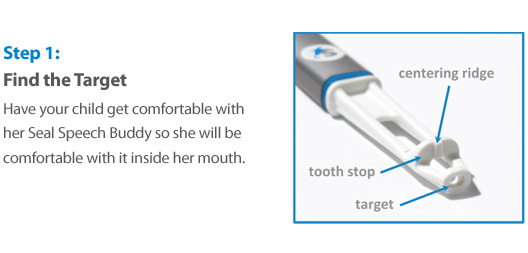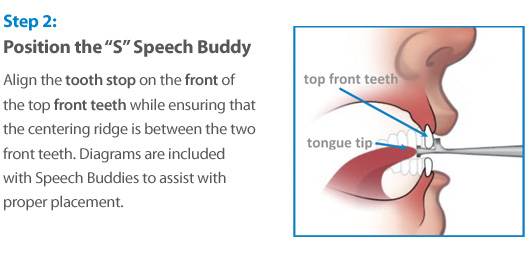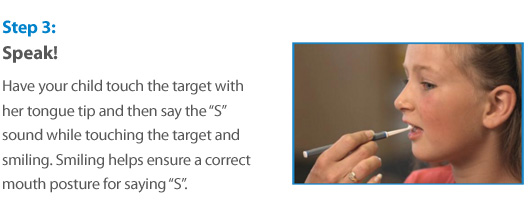 If the tongue tip is touching the target, the correct sound should be produced. It may take several attempts, but keep practicing! Correct pronunciation with your Speech Buddy leads to correct pronunciation without your Speech Buddy.
Speech Buddies in Practice:
The standard process of articulation therapy – progressing first from repeating the sound by itself, then to syllables, words, sentences, and finally conversation – is the same when using tactile learning, the trick lies in when to use the tactile cue or target. Although each child is a unique case, the following chart gives some guidance on how often you should use your Speech Buddy.
How often to use your Speech Buddy:



Start with the sound in isolation and use the Speech Buddy nearly every attempt at the sound. As your child starts to achieve correct pronunciations nearly every time with the Speech Buddy, try alternating, with and without the Speech Buddy. As your child makes progress, switch to every 4th cue until the sound is being said correctly almost every time.
After the sound has been mastered in isolation, try pronouncing syllables (sa, se, si, so, su) and finally words that contain the problem sound (sock, silly, sundae). Try using words that have the sound in the beginning, middle and end of the word (saw, castle, dress). As your child masters words, move onto practicing sentences without the Speech Buddy. You can always go back and repeat each step as a child learns and improves.
Other Important Tips:
If your child is over the age of four, it may be appropriate and easier for him to the use Speech Buddy himself. This will not only enhance his confidence, but gives him the opportunity to learn correct speech while doing homework or watching TV!
Additional training videos can be found on the Speech Buddy website as well as information on research studies showing the effectiveness of Speech Buddies and the tactile learning method.
Although parents have made great progress on their own with Speech Buddies, the fastest and best way to help your child is to use your Speech Buddy not only at home but in therapy with a speech therapist.
Now that you understand how to use tactile learning at home, you should be ready to get started. Most importantly, remember to have fun! Give your child exciting words to say, name objects around your house, bring your Speech Buddy to the park and see if your child can name everything with an S-sound (slide, sandbox, swing). Making practice fun will be rewarding for both you and your child.


Gordy Rogers, M.S. CCC-SLP is a speech-language pathologist and co-founder of Articulate Technologies, Inc.