Having just announced my first PAL Awards (Play Advances Language), recognizing toys, games and books that encourage language, I wanted to share why I am so passionate about promoting children's language. Early language proficiency correlates with later performance in school—reading, writing, and critical thinking skills—and influences emotional, cognitive and social growth. From a baby's first coo, a toddler's words, a preschooler's little sentences to storytelling, children progress in their ability to express feelings, successfully connect in social situations, solve problems and make good decisions. As speech language pathologists, we can educate parents on toy selection, and guidelines for best usage to make a difference in the quality of play their child experiences.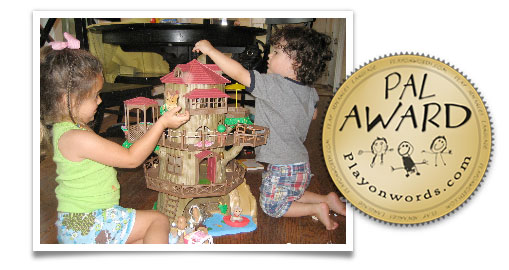 In my private speech therapy practice, Play On Words, traveling from house to house, I have the unique opportunity to see kids in their home play environment every week. I find myself in playrooms surrounded by fun toys that entertain but don't encourage talking. I am constantly educating parents, giving suggestions for toys, games and books to turn up the chat in the playroom. Add a mini kitchen with cookies that Velcro to the cookie sheet, plenty of spatulas, oven mitts and Playdoh to form some original cookies! Put some people on the train table, turn over a box for the ticket office and start selling tickets. Provide the fun, engaging props that invite pretend play and conversation.
How do parents sort through this huge supply of kids' toys? Who do we listen to? Who are the experts? What is marketing hype and what is the truth?
Each time I start with a new family, I realize I am teaching the parents what to look for in a toy and how to select toys with lasting interest that encourage talk. Recognizing toys, games and books that do just that, and giving parents a list to start with helps them be discerning in choosing toys that will encourage their child's language development.
Recently, I began to work with 22 month-old Sam, who was language delayed. The parents had originally called me to consult with them since some professionals were questioning whether he had autism. He was just beginning to string together babble but was generally pretty quiet, did have inconsistent eye contact but little joint attention, and the parents were worried. He was being raised bi-lingual, and was cared for by his grandparents who spoke Chinese exclusively to him. I walked into the house and was met by a smiling little guy who approached me with ease. As we played I heard some verbalizations, but no words.
I always make a quick assessment of the playroom. If play is his "work," where are the tools of his trade? I saw lots of blocks, shape sorters, and a big train set, but no people or animals to animate, no vehicles to give the people a ride, houses to live in or playgrounds to enjoy. I reached into my bag of goodies and brought out some little people, vehicles, chairs, tables, picnic accessories and food. When I brought out the little table with cups, cookies and a cake on it, he tilted the little boy figure to take a bite, closed his own mouth imitating my "mmmmm" and then offered some cookies to a truck nearby. Not bad for pretend play! We had interaction, open-ended play, some imitation of sounds and symbolic play.
After two weeks of therapy, I walked into Sam's house to see a new play table (next to the beloved train table) and it had a little airport with taxis, drivers, planes, suitcases and a picnic area for a snack. Mr. Potato Head was standing over the scene too! Mom had understood my lessons on toys selection.
PAL winners are examples of great language toys, games and books. My hope is that parents will see the scope of play these toys engender and be empowered to make wise choices when selecting children's products.
Playonwords.com PAL Award recognizes children's products that encourage language development, characterized by several of the following criteria:

Toys and Games:


Provide numerous opportunities to describe multi-sensory characteristics and actions for infants
Offer faces and characters to encourage conversation
Provide flexibility—can use the toy or play set in variety of ways for open-ended play
Encourage interaction, dialogue, and story telling
Contain related props to extend pretend play
Foster imagination and creativity
Teach specific language concepts through play
Build social skills and pragmatic language

Books:


Provide creative, engaging story with outstanding illustrations to easily narrate
Invite interaction
Encourage pre-literacy learning with clever rhyme, challenging vocabulary, and bold words, etc.
Provide the opportunity to teach critical thinking skills such as compare/contrast, inference and prediction.
Invite dialogue on topics that promote building kids' character

For more than 30 years, Sherry Artemenko has worked with children to improve their speech and language, serving as a speech language pathologist in both the public and private school systems and private practice.
Prior to establishing Play on Words LLC, Sherry's career as a speech language pathologist spanned 22 years in the Illinois and Connecticut public and private schools, where she worked with pre-school to high school-aged special needs children.
You can view the complete list of Pal Award winners and read Sherry's full bio at her website www.playonwords.com.